About
What is a tile?
A tile is a piece of LIFEwall which you can purchase and populate as you wish. Add an image or text. Once you post a tile, it's there for eternity!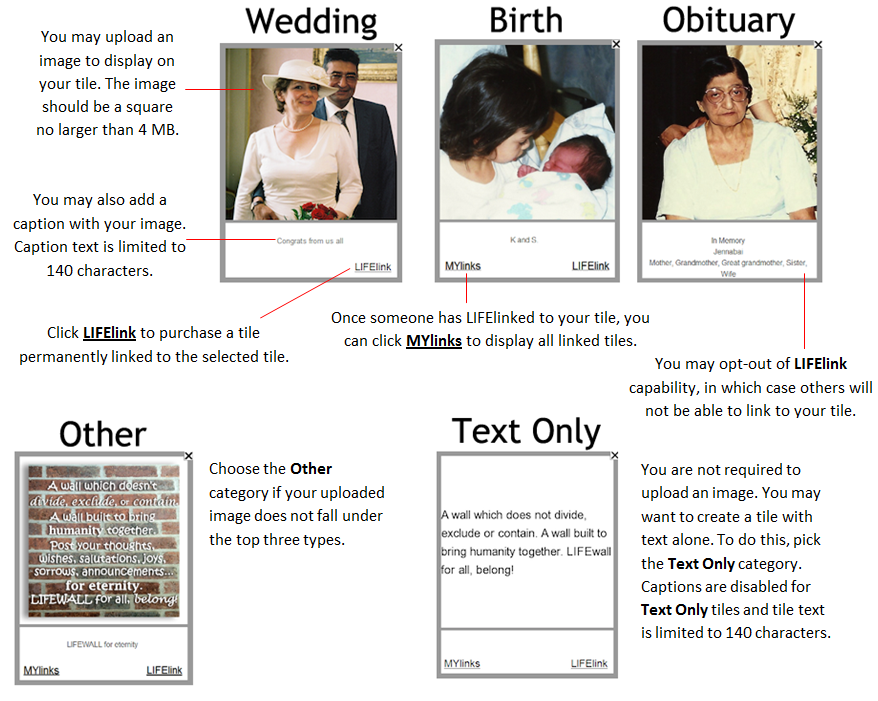 Tile Categories
You are allowed to choose one of five categories for your tile:
Wedding
Birth
In Memoriam
Text Only
Other
For
Wedding
,
Birth
, and
In Memoriam
tiles, you must enter the event date and event location as searchable tags.
Birth
and
In Memoriam
tiles also require a tag for the subject's gender. Tags are completely optional for
Text Only
and
Other
tiles.
When purchasing a tile linked to an already existing tile, you may select the
Text Only
category or
Other
category.
Tags and Searching
Tiles can by viewed by category using the drop-down menu on the Home page. Tiles are also viewable by assigned tags using the "Search for an Existing Tile:" box on the Home page.
How much does it cost?
It costs only $5 (US Dollars) to create a Tile and have it set for eternity!
LIFEwall UPLOAD POLICY
NO pornographic images, or obscene pictures. Use your common sense.
NO racism or sexism. We are all for free speech, however we will not tolerate racism or sexism.
NO images or statements which can be proven to be libel.
NO REFUNDS. There will be no refunds for tiles removed by us for violating the above policies.
NO NOTICE. There will be no notice given prior to the removal of tiles.